90th Birthday Gift Ideas for Grandma
Are you looking for the best 80th birthday gift ideas for Grandma? Delight her with one of these top picks! Quickly find a gift that even the woman who has everything will love!
This post may contain affiliate links. For more information, visit the disclosure page.
Best-Selling 90th Birthday Gifts for Grandma
In a hurry? You can't go wrong with one of these best sellers!
Personalized The Day You Were Born Canvas
Wondering what to get the 90 year old grandma who has everything?
Surprise her with this striking personalized "The Day You Were Born" canvas that's full of fun trivia about what life was like 90 years ago!
1933 Back In The Day – 24-page Greeting Card / BookletCHECK PRICE
Personalized Day You Were Born Oversized CardCHECK PRICE
You Have Been Loved for 90 Years Mug with 1933 TriviaCHECK PRICE
The New York Times Custom Birthday Book
Every Birthday Front Page from All 90 Years
Treat your Grandma to a walk through history with The Custom Birthday Book by The New York Times.
Unique present features every single New York Times birthday front page from all 90 years of her life!
90 years of memories are all bound together in one gorgeous personalized book (available in 6 colors). It's the perfect 90th birthday gift for the grandmother who has everything!
FREE SHIPPING!
Enjoy Free Shipping on up to two Custom Birthday Books or Ultimate Birthday Books at The New York Times Store. Expires 12/31/23.
USE CODE: BDAYBOOKSHIP
Close to Her Heart Personalized Blanket
As Grandma turns older, you may have noticed that she's a bit colder than she used to be. Wrap your grandmother in love with this delightfully cozy personalized blanket.
Add up to 21 names (or meaningful words) to be printed in a heart fashion on this super-soft blanket. It's just the perfect weight and size for snuggling under while watching TV or reading.
You can also get this lovely Close to Her heart design on 40 other gifts, including a mug, flower pot, pillow, cookie jar and more.
Click here to see all the Close to Her Heart gifts at Personalization Mall.
Personalized 90th Birthday Blanket – Choice of ColorsCHECK PRICE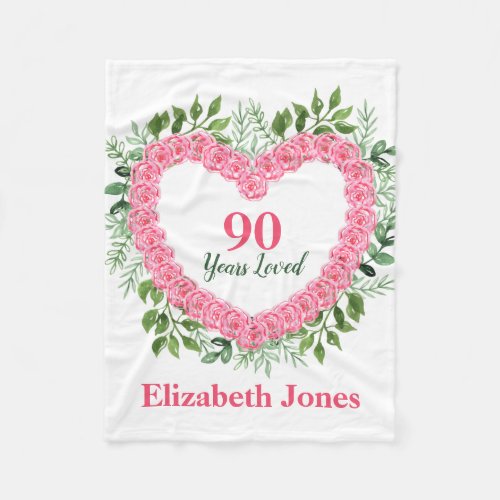 90 Years Loved Personalized BlanketCHECK PRICE
Blessed by God for 90 Years Fleece BlanketCHECK PRICE
Story of a Lifetime Memory Book
At 90, your Grandma probably has loads of wonderful memories to share! This lovely hard-bound book gives her the perfect way to record those treasured memories both for herself and her loved ones.
She will enjoy answering the intriguing questions on the elegant, gold-tipped pages. It's a meaningful 90th birthday gift gift that will spark memories and conversations.
She will enjoy working on this fun project for months to come. She can answer a question or 2 whenever she feels like it.
Personalized Canvas with Grandkids Names & BirthdatesCHECK PRICE
Grandma Tell Me Your Story – Keepsake JournalCHECK PRICE
What I Love about Grandma Fill-in-the-Blank Gift JournalCHECK PRICE
Traditional 90th Birthday Gift Ideas for Grandma
Some people are looking for a list of traditional birthday gifts for each year. Lists like that are available for anniversaries, but not for birthdays.
Some of the customary birthday gifts for women include candy, flowers, gift baskets and jewelry. Check out these clever ways to tailor those symbolic gifts for an 90th birthday.
90th Birthday Jewelry
Nine Rings for Nine Decades Necklace
Delight your grandmother with this beautifully symbolic 90th birthday gift!
Beautiful necklace features 9 intertwined rings…1 ring for every decade of life. The intertwined circles represent infinite love, strength, protection and unity.
A wonderfully elegant way to represent "90" in jewelry form!
Sterling Silver 9 Rings for 9 Decades NecklaceCHECK PRICE
90th Birthday Cross Necklace – Silver, Gold or Rose GoldCHECK PRICE
90 and Fabulous Bracelet with CharmsCHECK PRICE
Personalized Grandmother's Jewelry
A milestone birthday like this is a great time to honor your Grandma's love for her family!
The family tree necklace pictured above is a wonderful choice for the grandma who's been blessed with a large family. She can add up to 15 names and birthstones.
90th Birthday Gift Baskets

Give Grandma a sweet taste of childhood with this fun 1933 gift box!
Cheerful candy gift basket is filled with 40 different candies from her childhood.
90th Birthday Flowers
Flowers are always a sweet birthday gift! If you're looking for a quick-delivery 90th birthday gift, check out the great birthday flower same day delivery selection at FTD.
If you have a more time, however, it's nice to celebrate this milestone birthday with a more unique floral gift. Grandma is sure to appreciate one of these popular 90th birthday flower gifts.
24k Gold Dipped Real Rose
Thrill Grandma with a shimmering real rose that's dipped in 24k gold. She'll enjoy this lovely flower long after her big day is over – and it will be a wonderful memory of her 90th birthday!
This graceful gift is also available in platinum, silver and rose gold…click the button below for details.
Gold Dipped Real Rose with Stand – Choice of 5 ColorsCHECK PRICE
Willow Tree So Much Love Hand-Painted FigurineCHECK PRICE
Waterford Crystal Sculptured Glass Rose – Red or PinkCHECK PRICE
90th Birthday Flower Vase
Delight your grandmother with a lovely personalized flower vase on her milestone birthday! You can choose from several lovely pre-written verses, or you can create your own loving message.
Just add her favorite flowers – she'll enjoy using the vase long after the flowers have faded.
90th Birthday Candy
Candy is another sweet traditional birthday gift that your granny is sure to appreciate! Check out these delicious candy gifts that are perfect for the grandmother who is turning 90.
Personalized 90th Birthday Candy Jar
Looking for an inexpensive candy gift that Grandma will love? This fun personalized candy jar is under $25, and is a cute way to celebrate this milestone occasion.
Add her favorite candy to create a cute gift that's perfect for sharing. You can opt to have Lifesavers included with the candy jar.
Miniature chocolate bars or Hershey's Kisses are also clever fillers, and you can order 90th birthday wrappers from Amazon to make them even more special.
Unique Gifts for 90 Year Old Grandma
Looking for something a bit out of the ordinary? Surprise her with one of these unique presents!
The New York Times Front Page Puzzle
The fun-loving grandmother is sure to enjoy this unique jigsaw puzzle that features The New York Times front page from the day she was born!
She'll love spending time with family and friends while putting this impressive puzzle together. Perfect gift for the 90 year old woman who has everything!
Personalized 90th Birthday Playing Cards – Choice of StylesCHECK PRICE
It's My 90th Birthday Tiara and SashCHECK PRICE
The Good Ole Days Large Print Word Search BookCHECK PRICE
90th Birthday Pillows
Now that she's 90, your grandmother deserves a chance to sit back and relax! Make her even more comfortable with a cute pillow.
Choose from hundreds of 90th birthday pillows at Zazzle. Each pillow is available in both throw style and lumbar pillows, and many of the pillows can be personalized.
Great gift for the grandmother who is in a nursing home or confined to a wheelchair – or for the grandma who has everything!
Inexpensive 90 Year Old Birthday Gift Ideas for Grandma
Gifts Under $25 That Don't Look Cheap
You don't have to spend a fortune to get Grandma a special birthday gift she'll love! Check out these cute gifts that are all priced under $25!
Personalized Wine Bottle Label
Is she a wine-lover? Then she'll appreciate a personalized bottle of wine!
Add your own text to this wine bottle label (available in teal or magenta). Then just stick the label on her favorite bottle of wine to create a clever gift she'll love!
Aged 90 Years to Perfection Wine GlassCHECK PRICE
Not a Day Over Fabulous Wine Tumbler Gift SetCHECK PRICE
Cheers to 90 Years Stemless Wine GlassCHECK PRICE
90th Birthday T Shirts for Women
Choice of Styles
Looking for affordable 90th birthday gift ideas for Grandma who has everything? Deck her out in a cute 90th birthday shirt!
Zazzle has loads of clever 90th birthday shirts for women! Many of the shirts can be personalized for an extra special touch.
Each shirt is available in several different colors and styles, including sweatshirts and long sleeved t-shirts. Just click on your favorite shirt for details.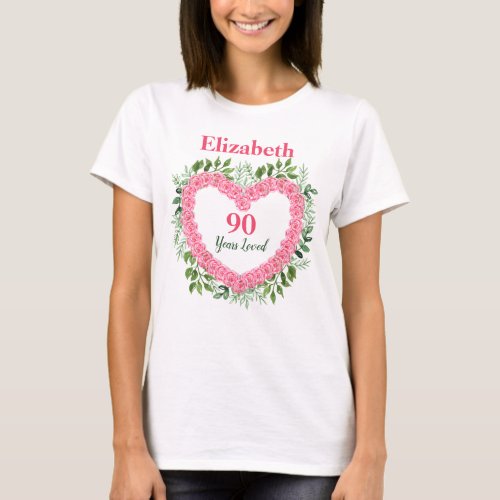 Personalized 90 Years Loved Shirt or SweatshirtCHECK PRICE
I Make 90 Look Good T-Shirt – Choice of 5 ColorsCHECK PRICE
Still Gorgeous 90th Birthday Sweatshirt – Choice of ColorsCHECK PRICE
90th Birthday Coffee Mug
Make Grandma smile on her birthday – and every day after that – with this funny mug!
It's an adorable gift all by itself, or you could fill it with flowers to make a colorful little bouquet. Or add a small bag of coffee and some treats or cookies to make a cute gift basket.
If you're an Amazon prime member, be sure to take advantage of free shipping to save money!
Personalized 90 Years Loved Coffee MugCHECK PRICE
Personalized 90th Birthday Mug – Pink or PurpleCHECK PRICE
Not Everyone Looks This Good at 90 MugCHECK PRICE
90th Birthday Cards for Grandma
You'll want to send your grandmother a special birthday card for this big occasion! This personalized wooden postcard pictured above is fun, memorable, and best of all – just under $15.
Hallmark Elegant Happy 90th Birthday CardCHECK PRICE
3D Pop Up 90th Birthday Card for GrandmaCHECK PRICE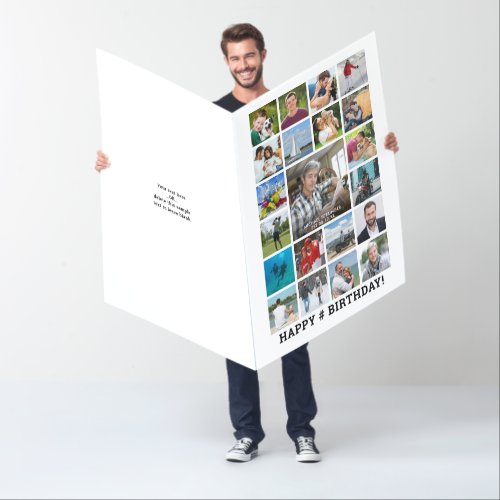 90th Birthday Photo Collage Jumbo CardCHECK PRICE
Read Related Articles:
Summary
Article Name
90th Birthday Gift Ideas for Grandma
Description
50 Awesome 90th Birthday Gift Ideas for Grandma
Author
Publisher Name
Publisher Logo