Looking for unique 90th birthday gifts? Check out our guide to the top 50 90th birthday gift ideas!
This post may contain affiliate links. For more information, visit the disclosure page.
Best Selling 90th Birthday Gifts
In a hurry? Choose one of these customer favorites!
The New York Times Ultimate Birthday Book
Every Birthday Front Page for All 90 Years!
So much in life has changed over the course of 90 years, and this best-selling book is the perfect way to flip through the pages of time.
Striking book features every newspaper front page on the recipient's birthday for their entire life – 90 years of front page headlines and news!
It also features 5 pages of newsworthy events from the chosen year, as well as a collection of world-changing front pages. It comes in a handsome gift box that includes an oversized magnifier.
The 140 page Ultimate Birthday Book (an enhanced version of the less-expensive Custom Birthday Book) features an exclusive, photo-packed 24-page timeline of more than 1200 news and cultural events.
Personalized book is available in 2 cover styles and 6 colors. The birthday honoree will love strolling through time as they review the most important events of a lifetime!
Also Consider:
The New York Times Your Special Day Book – A complete edition of the newspaper from the day they were born. From $100.
Personalized The Day You Were Born Canvas Print
Unique Day You Were Born canvas print is personalized with the recipient's name and birthdate at the top.
The personalized canvas chronicles the headline news, top sports results, movies and songs of the day.
It also features an interesting cost of living comparison – it'll be amazing to see how much prices have changed over the years. Available in 3 sizes, it's a fabulous gift for any hard-to-buy for senior!
Personalized Heart of Love Blanket
Choice of 5 Colors
Keep your favorite senior warm during those chilly days with this super-soft personalized fleece blanket.
This cuddly, machine-washable blanket features the names of up to 21 children and grandchildren in a heart shape.
The perfect weight for snuggling with a good book, watching TV or napping, the recipient will love being surrounded by the names of the ones he or she loves.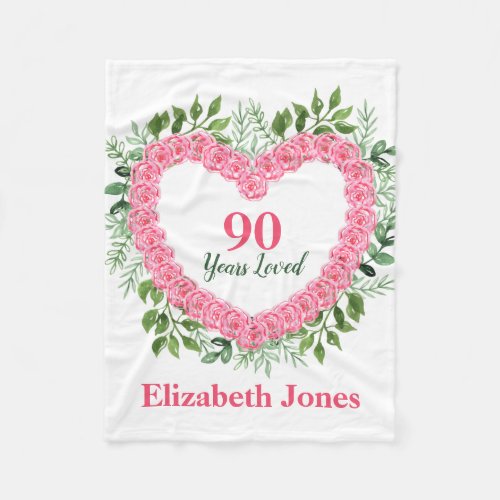 90 Years Loved 90th Birthday BlanketCHECK PRICE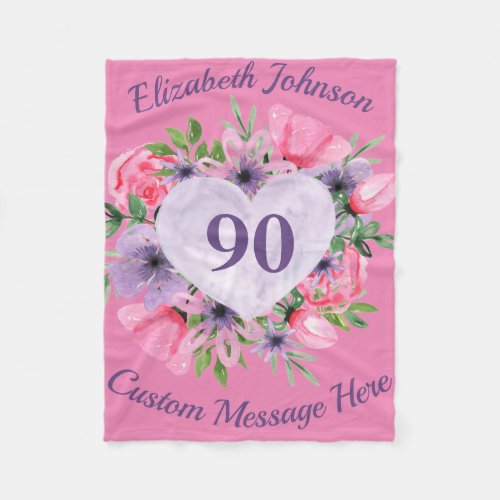 Personalized 90th Birthday Blanket – Purple, Green or PinkCHECK PRICE
Personalized Reasons Why Blanket – Choice of ColorsCHECK PRICE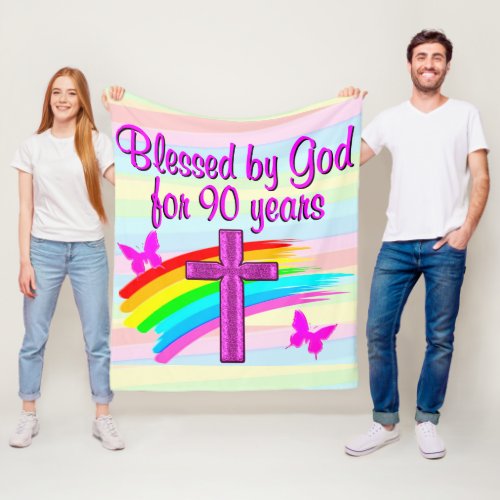 Blessed by God for 90 Years BlanketCHECK PRICE
Story of a Lifetime Memoir Book
Help the birthday man or woman preserve a lifetime of memories with this striking, hard-bound journal.
The book poses almost 500 questions that range from simple to the thought-provoking.
Plenty of room to answer each question is provided on elegant, gold-tipped pages.
The recipient will enjoy answering the questions, and knowing that his or her precious memories will be preserved for and enjoyed by future generations.
90th Birthday Pillows
Choice of 200+ Styles
As a fun way to celebrate their big day, try a custom throw pillow to help them spruce up their space.
Your design choices are endless, and many styles give you the option to add a photo, name or other means of customization.
From humorous wording to meaningful expressions, each pillow features vibrantly colored designs on smooth, wrinkle-free fabrics for a high-end look that sends the right message.
The New York Times Front Page Jigsaw Puzzle
Piece together the headline events from the guest of honor's birth date with this clever jigsaw puzzle.
Unique puzzle (available in 3 sizes) is an exact replica of the New York Times for any requested date.
A fun gift that will bring hours of enjoyment for the recipient, family and friends!
90th Birthday Jewelry
The stylish woman who is turning 90 will love getting a necklace or bracelet that commemorates her milestone birthday.
Lovely "9 Rings for 9 Decades" necklace is a gorgeous gift that any woman will treasure!
Birthstone dangles gracefully in the center, and adds just the right amount of sparkle.
Funny

90th Birthday Gifts

You probably want to tread carefully here. Over the hill gifts aren't really appropriate for this occasion.

If you'd like to give a funny gift, a gentle sense of humor is really more appropriate for someone who's turning 90.

Look for a gift with a clever saying such as:

Each of these gift ideas is available in several designs. You can choose from a variety of gifts, including pins, stickers, mugs, shirts and more.
Funny Books for Seniors
Hopefully your favorite senior has a sense of humor about turning 90 years old!
Hilarious book about growing older by Dr. Seuss is sure to make him or her laugh out loud!
A whimsical and funny book for any "obsolete child"!
Gettin' Old Ain't for Wimps – Funny Book for SeniorsCHECK PRICE
The Book of Senior Jokes: The Ones You Can RememberCHECK PRICE
How Not to Act Like a Little Old LadyCHECK PRICE
How Not to Become a Crotchety Old ManCHECK PRICE
90th Birthday Flowers
Flowers are always a wonderful gift for any birthday! If you need a last minute gift, you can send 90th birthday flowers from FTD to arrive today.
But for a special event such as a 90th birthday, it's nice to think outside the box just a bit and send unique flowers. Here are some lovely ideas that any woman turning 90 will love!
Real Rose Covered in Gold
On this special occasion, think beyond traditional flower bouquets, and treat a special lady to a one-of-a-kind rose!
A real rose is carefully preserved with enamel and then trimmed in 24k gold to create a gift that will last forever.
A unique gift that can be enjoyed long after the special day is over!
Waterford Crystal Glass Sculptured Rose – Pink or RedCHECK PRICE
Personalized Flower Pot with up to 21 NamesCHECK PRICE
Personalized Flower Vase
Add Your Own Birthday Greeting Message
Give Mom, Grandma or another woman who is celebrating 90 flowers in her own personalized keepsake birthday vase!
Personalize with the name and your own message. Then add her favorite flowers to create a gift that she can enjoy over and over.
Personalized 90th Birthday Flowers for Mom
Looking for a sentimental 90th birthday gift for Mom? Brighten her day all year 'round with this gorgeous lighted floral centerpiece!
The inscription reads, "A Mother Holds Her Children's Hands for Just a Little While, But Holds Their Hearts Forever".
Personalize this lovely centerpiece by adding her children's birthstones to the dangling heart locket…a beautiful reminder of the ones she loves most!
Willow Tree Surrounded by Love, Sculpted Hand-Painted FigureCHECK PRICE
Thomas Kinkade Love Lives Here Illuminated CenterpieceCHECK PRICE
Cake Made from Real Flowers
Any woman who is about to turn 90 has received her fair share of flowers. Chances are she's never been sent flowers like this gorgeous arrangement!
Colorful flowers are arranged in the shape of a beautiful birthday cake to create a unique gift that will awe the recipient.
Need a last-minute gift? This can arrive on the same day!
90th Birthday Gifts Under $25
You don't have to spend a fortune to find a gift that will delight the recipient! Check out these inexpensive gifts that don't look cheap.
90th Birthday Coffee Mugs
Anyone who's celebrating 90 years probably needs a little extra jolt of caffeine to keep going!
Zazzle offers a great selection of 90th birthday mugs in hundreds of different styles from cute to funny to personalized.
With prices starting at under $20, the mugs are great inexpensive gifts.
You can give them by themselves, or add flavored coffees and other yummy treats to create a cute little gift basket.
It Took 90 Years Awesome Funny Coffee MugCHECK PRICE
Against Law to Look This Good at Ninety Coffee MugCHECK PRICE
90th Birthday Gift Baskets
Send sweet birthday greetings to your favorite senior with a delightful 90th birthday gift basket!
GiftTree is my top choice for impressive birthday ​gift baskets. They offer an amazing range of gift baskets in all prices…starting at under $15!
Or if you want to splurge, consider a luxurious champagne gift basket. If you have an extra $1100 to spend, you can mark the occasion in style with Versailles: The Ultimate Gift Basket (at least you get free shipping!)
The best part? You can choose to have a personalized satin ribbon imprinted with your own special birthday greetings if you'd like.
The Best Things in Life Birthday Candle
For a gift that will truly brighten their day, this quality candle holder features a stunning finish that will complement any room.
Unlike most candles that can only be reused a few times, this charming container holds a standard-sized tea light that can be replaced for years of use.
The inscription reads, "The Best Things in Life are the people we love, the places we've been, and the memories we've made along the way."
With a sweet sentiment that reminds them of what life is all about, the birthday star is sure to feel the warmth both inside and out.
Personalized Sherpa Blanket
Choice of Colors
Your favorite 90-year-old will love the soft and cozy feel of this delightful personalized blanket!
The warm but lightweight blanket features micro-mink on one side, while the inside features a snuggly, faux lambswool sherpa.
The machine wash & dry blanket is available in grey or tan, and can be personalized in your choice of thread colors.
Personalized Heart Shaped Keepsake
This is a fabulous time to let your favorite senior know how much he or she has meant to you, and this sentimental keepsake gift is the perfect, long-lasting way to share your thoughts.
The clear lucite keepsake features your own loving message (or you can choose from pre-written verses) engraved in the center. Add any title to the top, and a 3 line closing sentiment.
A sentimental gift that they will treasure – don't be surprised if he or she cries tears of joy!
Personalized Diamond Crystal Keepsake
Shimmering crystal diamond-shaped keepsake is a unique way to let someone special know what a gem you think they are!
Unique present is engraved with the recipient's name, a 3 line message, and a closing sentiment or date.
Personalized Picture Frames
Choice of 6 Color Schemes
Showcase a favorite memory from the big day in this personalized 90th birthday frame! Available in your choice of 6 color schemes, the frame is personalized with name, birthday, current year, and the birth year.
It also features 2 additional lines of personalization for nicknames or a special message.
A great last minute gift – it can ship in just 1 or 2 days!
Personalized Wooden Picture FrameCHECK PRICE
Happy 90th Birthday Photo FrameCHECK PRICE
Personalized Family Tree Blanket
Ideal for furniture or wall decor, this oversized throw highlights your family tree in a unique and personal way.
Featuring a 1-line message and a year, you can include up to 25 names to fill the leaves.
Having played an important role in your family's establishment, your loved one will cherish the stylish representation and visual reminder of the family members they hold so dear.
Family Tree Hanging Picture Frame DisplayCHECK PRICE
Family Tree Necklace with Names and BirthstonesCHECK PRICE
Leaves of Love Family Tree Blanket with up to 8 NamesCHECK PRICE
Personalized Family Tree Canvas Wall ArtCHECK PRICE
90th Birthday Shirts and Sweatshirts​
Choice of 1000+ Styles
The birthday celebrant can show off his or her pride at turning 90 with a special birthday shirt.
Zazzle has hundreds of 90th birthday shirts for men and women!
Most of the shirts come in a variety of styles and colors, so just click on the design you want to see the details.
Personalized Photo Albums
Choice of 2 Styles
Capture all the excitement and fun of their big day in this handsome personalized photo album.
The guest of honor's name and special birthday will be laser-engraved on the cover of this wooden album. Inside, you can add up to 72 pictures.
The perfect way to enjoy the celebration long after the big day has come and gone.
Personalized 90th Birthday Beer Mug
At 90, he's earned the right to a few ice-cold, frosty beers – and this striking personalized mug will allow him to enjoy his favorite beverage in style!
Sturdy glass mug features his age and 2 lines of personalization. The phrase "Aged to Perfection" appears at the top of the etching.
The perfect 90th birthday gift for Grandpa, Dad or any beer-loving man!
Champagne Gift Ideas
A special occasion like this certainly deserves a toast or two. This prestigious champagne gift basket provides all the goodies you want for a memorable celebration!
Your choice of premium champagne is paired with award-winning snacks and delicacies, all arranged in an elegant leather container. Add a personalized message on a silver hang tang for an elegant touch.
A gift that's sure to impress!
Personalized Vintage Jewelry Box
If your favorite senior loves the vintage look, then this beveled glass jewelry box is sure to be a treasure. It can be personalized with a loving message and any 2-line closing sentiment.
The elegant silver-plate trim, intricate filigree and dangling heart charm make this box a worthy container for her most prized possessions, but its true riches are found within your custom-engraved words that she will adore for years to come.
A thoughtful 90th birthday gift for Grandma, Mom, or any special lady!
90th Birthday Playing Cards
Choice of 80 Styles
At this age, your loved one has earned the right to relax and enjoy life through their favorite pastimes, and a new deck of playing cards is the perfect way to encourage their play.
These cards can be customized with a wide variety of designs that include photos and personalized text.
90th Birthday Wine Gifts
Impress a special man or woman who is turning 90 with a 90th birthday wine gift basket!
GiftTree has a fabulous selection of wine gifts that feature your choice of prestigious wine.
You can even choose to have a bottle of wine engraved with a personalized Happy 90th Birthday message…or add the message to a personalized ribbon.
90th Birthday Hats
Choice of Styles
Keep the birthday celebrant stylish and protected from the sun with a festive hat designed just for their birthday.
Zazzle offers over a huge selection of 90th birthday hats! Most of the designs are offered in several different colors – just click on the design you like to see the choices.
90 Never Looked So Good Baseball Cap and SashCHECK PRICE
90th Birthday Tiara for Women – Silver or GoldCHECK PRICE
It Took Me 90 Years to Look This Good CapCHECK PRICE
Have You Hugged a 90 Year Old Today HatCHECK PRICE
Personalized Wine Label – Teal or Pink
Treat your favorite senior to a memorable bottle of wine to celebrate turning 9-0! Even the most ordinary wine becomes special when you add a personalized wine label.
Waterproof label can be personalized with their name, birth year, and 2 lines of text.
Just peel and stick to any bottle of wine to create a memorable gift!
Personalized Glass Frame with Poem
Available for Men or Women
Share your loving thoughts – and a favorite photo – in one sentimental gift! Striking glass frame is personalized with any title at the top, and then features a poem or letter that you can use to express your love and affection.
Choose from 6 pre-written verses, or write your own. Add your own 2 line closing sentiment to finish the gift.
Also available in a more masculine style – click here to see the manly version.
Personalized The Day You Were Born Coffee Mug
Serve up a little history with your coffee or tea! Antiqued-looking mug features the recipient's birth date and 1 line of personalization on the front.
The back is customized with their name, and details the most popular movies and songs of the day. It also highlights the names of celebrities who share this birth date.
Priced at under $15, this makes a fun little gift for any senior!
How to Choose the Best 90th Birthday Gifts
Traditional 90th Birthday Gifts
Are you wondering what are the traditional 90th birthday gifts? Traditional birthday gifts such as flowers, jewelry and chocolates are great – but find out how you can easily tailor them for a 90th birthday!
The idea of official gemstones, gifts, flowers and colors is actually associated with anniversaries (for a 90th anniversary, the recommended gift is engraved marble or granite). This tradition does not carry over to birthdays, however.
There is not an official list of 90th birthday presents, colors, or gemstones.
So you can choose any present you want without having to worry about keeping to a tradition. The question becomes, what's a memorable gift that you can get someone who's turning 90?
Here are some popular ideas:
Food Gifts
Food is always an important part of any celebration, and a 90th birthday is no exception.
Consider making a special treat or meal for your favorite senior. Are you famous for your homemade pies, fudge, or another delight? I'm sure the birthday celebrant would be delighted to be given your speciality!
Gift baskets are very popular picks for any birthday. You could make your own and fill it with home-made treats or gourmet goodies. Check out your local World Market or gourmet food store for unique snacks and treats to add to your basket.
You could do a themed basket if you'd like. For a coffee-lover, add a special coffee mug, a few flavored coffees, biscotti or cookies, and you've created a sure-to-please gift basket.
Other popular themed baskets include chocolate, champagne or wine, pasta, breakfast basket, or a pampering spa gift basket.
If you're ordering a gift basket online, check out the selection of birthday gift baskets at GiftTree. They specialize in upscale gift baskets and towers, with their prices starting at under $25. If you'd like, you can add a personalized ribbon with your own unique birthday message to many of their baskets.
Be aware that many seniors have problems with their teeth, so you might want to avoid sticky caramels when choosing or filling your gift basket.
Personalized Gift Ideas
Personalization makes even the smallest, most ordinary gift into a one-of-a-kind present that lets the recipient know that you've made an effort to create a unique gift just for him or her.
For a milestone event like this, look for gifts that can be personalized to say Happy 90th Birthday. The gift will then be a thoughtful reminder of their special occasion.
My first choice for personalized birthday gifts is Personalization Mall. They feature a fabulous assortment of unique gifts that can be custom made (many times in just 1 day) just for this special birthday.
Some of their most popular milestone birthday gifts include frames, coffee mugs, and ​The Day You Were Born canvas. With prices starting at under $15, you can find a personalized gift to fit any budget.
Sentimental 90th Birthday Gift Ideas
If the birthday man or woman is someone you're close to (such as a parent or grandparent, or a life-long friend), then this is the perfect occasion to let them know how much they've meant to you over the years. He or she will be honored and thrilled to know that they're made a difference in your life.
Consider giving a sentimental keepsake that can be personalized with a poem or letter that expresses your gratitude or love.
Personalization Mall offers an exceptional variety of keepsakes and jewelry or valet boxes that can be personalized with your own sentimental message. If you're trying to think of just the right words to express your feelings, here's a tip: Most of their gifts offer a variety of pre-written poems and messages that you can either use as is, or adapt for your own purposes.
Just go the product detail page to see the poems and verses. You can also change the title on any of their gifts, so if you like the looks of the "Dear Mom" keepsake or the "Dear Dad" valet box, you can change the title on the gift to anything you'd like.
Family Name Gifts
Most seniors take enormous pride and pleasure in their family, so a gift that features the names of their loved ones is always a big hit.
Look for family tree gifts, such as blankets, wall art or family tree sculptures that can be personalized with the names of all their family members. The celebrant will love being reminded of his or her loved ones.
For women, family tree necklaces are a popular choice. A necklace is a great way to combine her love of jewelry with her love of her family!
Photo Gift Ideas
Anyone who's turning 90 probably has loads of pictures lying around somewhere. Turn those pictures into a gift such as a coffee mug, blanket, or canvas that will allow them to enjoy seeing the faces of the people that they love any time they want.
You could also create a scrapbook or photo album filled with memories from throughout their lives. Or give an album or picture frame that's devoted especially to the events of their 90th birthday celebration.
If you'd like to use pictures from their childhood, you can easily scan pictures into your computer and then use those pictures to create gifts online. If you don't have a scanner, check out your local drug store, WalMart or Target. They almost have scanners that you can use to upload your pictures to a flash drive or disk to restore to your computer.
Also, use email, Facebook or other social media to solicit pictures from family members and friends.
Gifts for 90 Year Old Men or Women in Nursing Homes
I certainly hope that your favorite senior is in good health and able to enjoy his or her birthday, but that's not always the case. What should you get the man or woman who's in a nursing home or is otherwise not in great health?
If he or she still enjoys food, a gift basket or a homemade treat would be a welcome gift.
Soft and cozy blankets, especially ones with a family tree or family names upon on them, can be used to keep warm. They also make great decorations when spread over a chair or sofa.
A photo album filled with pictures of family and childhood friends is a thoughtful gift that they can enjoy after their birthday is over. Sometimes seniors who are struggling with memory loss can recall long-ago events more vividly than day-to-day happenings.
If he or she is not as aware of their surroundings, but you'd still like to acknowledge their birthday, consider a balloon for their room or cheerful stickers to adorn their outfit or door.
Homemade Gifts
Are you the crafty sort? Then consider making a special gift for your favorite senior – it's a gift of love that he or she will treasure!
If you're a seamstress, consider making a memory quilt out of old t-shirts (you can find easy instructions here).
A photo collage or display of some of their favorite pictures is a gift that they'll treasure. Check out the unique family tree photo display here – it would be easy to change pictures or add new pictures whenever you want.
Give Your Time
The gift that most seniors would value the most is probably time with you. Many seniors are lonely or not as mobile as they used to be. A senior like this would enjoy spending quality time with you.
If he or she is mobile, consider taking them on a special outing to a museum, play or restaurant. If they're able and you can afford it, plan a special trip or vacation.
See if there's anything on their bucket list that they would like to do. Or offer to bring them a meal or spend time doing a jigsaw puzzle or playing cards or a game.
Do a beer tasting, have a tea party, or do a craft together – the possibilities are almost endless! Enjoying time together will create memories that you will both treasure far beyond a physical gift.
See More 90 Year Old Birthday Gifts:​