Gifts for 90 Year Old Woman
Shopping for fabulous birthday gifts for 90 year old woman? Delight your favorite elderly lady with an amazing present – check out our guide to the top 50 gift ideas!
This post may contain affiliate links. For more information, visit the disclosure page.
Best Selling 90th Birthday Gifts for Her
In a hurry? Choose one of these favorites for a gift she'll love.
The New York Times Ultimate Birthday Book
Every Birthday Front Page for All 90 Years
She'll love turning the pages of time! Best-selling personalized book features every New York Times front page on her birthday for all 90 years.
The 140 page book also includes a 24 page timeline that's packed full of photos and famous front pages of world-changing events.
It comes in a decorative gift box, and includes an oversized magnifying glass for easy reading.
Starting from $160, this memorable gift is available in 2 cover styles and 6 colors. The perfect birthday gift for the 90 year old woman who has everything!
Also Consider:
The New York Times Special Day Book – Unique book features a reprint of the complete NY Times newspaper from the day she was born. From $100.
Personalized The Day You Were Born Keepsake
What Was Life Like Back in 1933?
Trendy chalkboard-style canvas is a great way to see how much life has changed over the past 90 years!
Personalized canvas features her name and birthdate at the top.
It's full of fun trivia about what was going on in the world on the day she was born. The canvas also includes a price comparison of common items between then and now.
Wonderful present for the hard-to-buy-for lady!
The New York Times Front Page Reprint from The Day You Were BornCHECK PRICE
Happy 90th Birthday Mug with 1933 TriviaCHECK PRICE
1933 Back In The Day – 24 Page Booklet/Greeting CardCHECK PRICE
Story of a Lifetime Personal Memoir Book
At 90, I'm sure she has quite the story to tell. She'll love preserving her life's story with this unique memory keepsake book.
Gorgeous book provides around 500 thought-provoking questions. It's a wonderful way for her (or a family member or friend) to record her personal experiences and philosophies.
A meaningful 90th birthday gift that is sure to become a treasured family heirloom.
90th Birthday Blankets
Does she feel cold more often now that she's older? She'll keep warm while wrapping herself up with her loved ones with this cuddly personalized blanket!
The super-soft fleece throw features a heart that is filled with the names of up to 21 family members. You can choose to add meaningful words rather than just names.
It's the perfect size and weight for napping under or to use while reading or watching tv.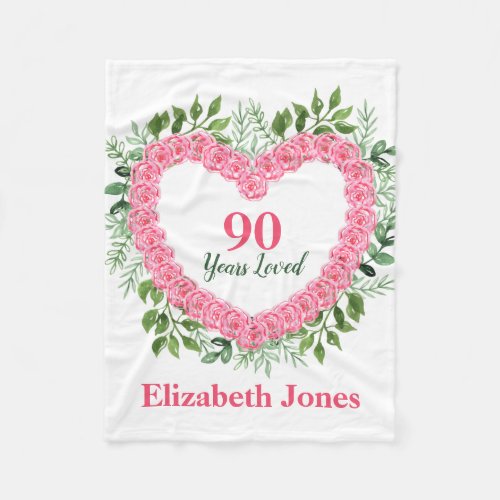 Personalized 90 Years Loved BlanketCHECK PRICE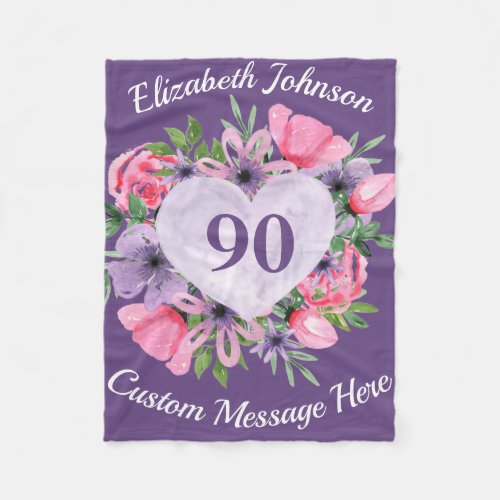 Personalized 90th Birthday Blanket – 3 ColorsCHECK PRICE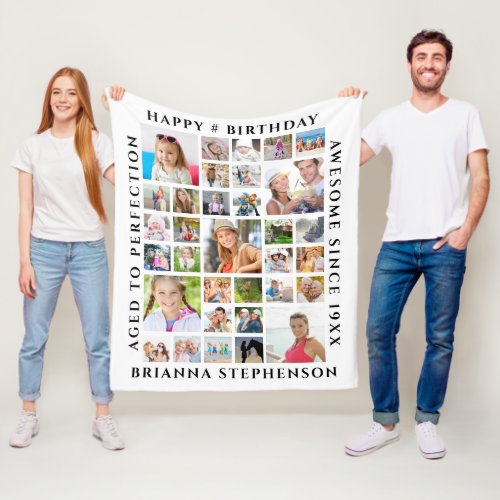 Personalized Fleece Blanket with 33 PhotosCHECK PRICE
90th Birthday Gift Baskets for Women
Gift baskets are delightful presents to receive at any age! GiftTree is my top pick for top rated 90th birthday gift baskets.
They have an amazing selection of gift baskets that are artfully arranged and presented. Prices start at around $25 for a birthday cookie gift basket and go up to over $700 for luxurious wine and champagne gift baskets (think Krug and Dom Perignon).
Add an optional personalized ribbon with your own cheerful Happy 90th birthday message for extra flair.
Retro Childhood Candy Gift BasketCHECK PRICE
Chocolate Bliss Gourmet Gift BasketCHECK PRICE
Godiva Happy Birthday Truffle FlightCHECK PRICE
New York Times Front Page Jigsaw Puzzle
Shopping for a unique and fun gift that she can enjoy with family and friends? This jigsaw puzzle that features an exact reproduction of The New York Times front page from the day she was born is the perfect choice!
It's available in 3 sizes – choose larger pieces if she has trouble picking up smaller pieces. The puzzle is a fun gift for the woman who has it all!
Personalized 90 Years Loved Large Print Playing CardsCHECK PRICE
Personalized Large Print Playing Cards – Pink, Purple or GreenCHECK PRICE
Large Print Memory Word Search Puzzles For SeniorsCHECK PRICE
Automatic Card Shuffler – Up to 6 DecksCHECK PRICE
Traditional 90th Birthday Gifts for Her
Wondering what the traditional 90th birthday gifts are? There's not an official list of birthday gifts by year, such as the ones for wedding anniversaries.
Traditional birthday gifts such as flowers and jewelry are perfect ideas – and here's how you can tailor these customary gifts for a 90th birthday!
90th Birthday Flowers
Think beyond everyday bouquets and give one of these unique floral gifts for a memorable birthday gift for a 90 year old woman.
Personalized Flower Vase
Every woman should have flowers on her birthday, and this sweet personalized vase is a perfect gift for an important birthday!
Personalize this cheerful vase with your own loving message (or choose from 4 pre-written sayings) to create a lovely gift she'll cherish.
24k Gold Dipped Real Rose
Give her a birthday flower that will never fade!
The Forever Rose is a real rose that has been hand-dipped in 24k gold to create a beautiful flower that will last forever. It's a unique and elegant gift that any woman will love.
Real Rose Dipped with 24k Gold – 14 ColorsCHECK PRICE
Heart of Love Flower Pot with 21 Names or WordCHECK PRICE
Waterford Crystal Rose – Pink or RedCHECK PRICE
90th Birthday Jewelry
Most women love jewelry – treat her to a special 90th birthday necklace or bracelet in honor of her milestone birthday!
90th Birthday Necklace
Nine Rings for Nine Decades
Delight the fashionable lady with this beautifully symbolic 90th birthday gift!
Stylish necklace features 9 intertwined sterling silver rings…one ring for each decade of life. The never-ending circle represents forever.
An elegant way to represent "90" in jewelry form!

Nine Rings for Nine Decades NecklaceCHECK PRICE
90 & Fabulous Charm Bracelet for WomenCHECK PRICE
90 & Fabulous Sash and Tiara Gift SetCHECK PRICE
90th Birthday Cross Necklace – Gold, Rose Gold or SilverCHECK PRICE
Birth Month Flower Necklace
Did you know that each month has a flower that's associated with it?
Lovely hand-crafted necklace that features a dried, pressed bud from her birth flower is a beautifully symbolic 90th birthday gift that she will be proud to wear.
Funny Birthday Gifts for 90 Year Old Women
If she has a keen sense of humor about growing older, she'll enjoy one of these clever gag gifts!
"You're Only Old Once" Book by Dr. Seuss
You never grow too old to laugh out loud at Dr. Seuss! Hilarious book pokes gentle fun of the trials and tribulations we face as we grow older.
Perfect for any woman who could use a good laugh on her birthday!
90th Birthday Coffee Mugs
Start her day off with a smile with one of these funny coffee mugs!
A cute coffee mug is an affordable present (under $20) that she can actually use. You can give it by itself or use it as the basis of a fun little DIY gift basket.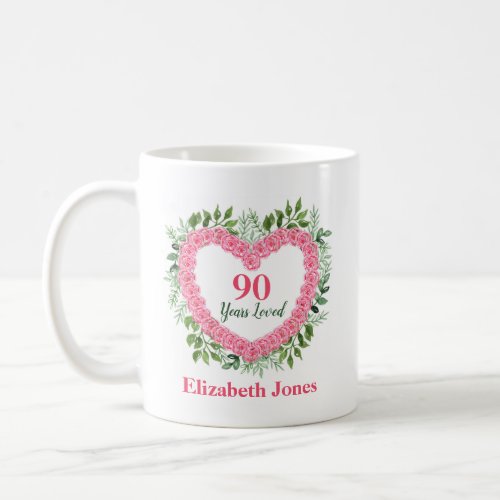 Personalized 90 Years Loved Coffee MugCHECK PRICE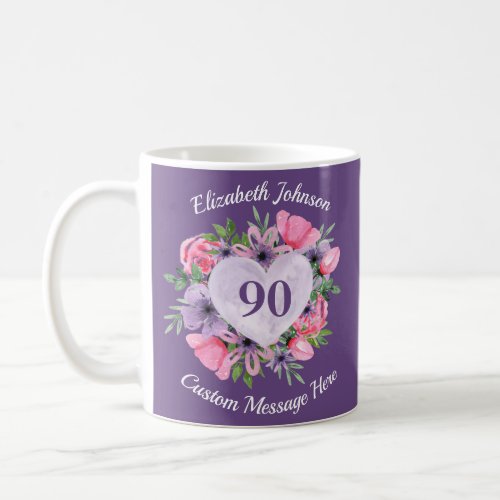 Personalized 90th Birthday Coffee Mug – 3 ColorsCHECK PRICE
Not a Day Over Fabulous Coffee Mug Gift SetCHECK PRICE
90 & Fabulous Elegant Mug Gift SetCHECK PRICE
90th Birthday Shirts for Women
Looking for an inexpensive but fun gift? Go with a 90th birthday shirt!
Check out the cute 90th birthday shirts at Zazzle. The shirts are each available in several different colors and styles.
Funny 90th Birthday T-Shirt – 5 ColorsCHECK PRICE
90 and Fabulous Shirt – 5 ColorsCHECK PRICE
Funny 90th Birthday Sweatshirt – Choice of ColorsCHECK PRICE
Unique 90th Birthday Gift Ideas for Women
Wine Gifts
Let her know that you think she's aged with perfection! Colorful personalized bottle label is an easy way to add a personal touch to her favorite wine.
Just peel and stick the waterproof label to any bottle of wine to create a one-of-a-kind gift she's sure to enjoy.
Aged 90 Years to Perfection Wine GlassCHECK PRICE
90th Birthday Wine Gift Baskets – From $50CHECK PRICE
Personalized 90th Birthday Bottle of WineCHECK PRICE
Wine & Chocolate Gift Baskets – Choice of StylesCHECK PRICE
90th Birthday Picture Frame
Choice of 6 Colors
Showcase a favorite picture from her birthday with a personalized birthday frame.
Cute photo frame pictured above can be personalized with her birthdate, age, name and nicknames.
Looking for a last minute gift? This picture frame can ship out in just one day!
Perfect Gem Crystal Keepsake
Let her know that she's a treasure with this personalized crystal keepsake!
Sparkling glass keepsake is personalized with your own message that will remind her that she's a treasured gem.
90th Birthday Champagne Gifts
A 90th birthday calls for a champagne toast! Treat her to a delightful champagne gift on her big day.
Personalized champagne glass is the perfect way to add a memorable touch to any celebration. Add your own 4 line message to create an affordable (under $15) gift that is sure to impress.
Godiva Chocolate and Champagne Gift BasketCHECK PRICE
Personalized Champagne Labels – Choice of StylesCHECK PRICE
Veuve Clicquot Champagne Gift BasketCHECK PRICE
Sentimental Gifts for a 90 Year Old Woman
Willow Tree Friendship Figurine
"Friendship Is the Sweetest Gift"
This occasion is a wonderful time to let her know how much you treasure her friendship.
She'll be reminded your close bond whenever she sees this 3.5″ hand-painted figurine.
The enclosed gift card is inscribed, "Friendship is the sweetest gift".
Great last minute gift for a close friend!
Personalized Heart Keepsake
Elegant heart-shaped keepsake is a gorgeous way to let her know how much you've treasured her friendship over the years.
Personalize the clear Lucite gift with a meaningful verse (you can choose from several pre-written verses or write your own, and then add your own closing sentiment.
A lovely reminder of the loving bond of friendship you share!
KindNotes Keepsake Jar with One Month of Inspirational NotesCHECK PRICE
Friends Forever Personalized Crystal Keepsake Gift for WomenCHECK PRICE
That's What Friends Are For Music BoxCHECK PRICE
"Good Friends Are Like Stars" Candle
Looking for a meaningful gift for a close friend? This sentimental candle is the beautiful way to let her know how important she is to you!
Tea-light candle holder (you can use battery-operated tea lights if you prefer) is inscribed with the thoughtful quote, "Good friends are like stars. You don't always see them, but you know they are there".
90th Birthday Greeting Cards for Women
Looking for just the perfect 90th birthday wishes? Send cheerful Happy Birthday greetings with one of these festive 90th birthday cards!
Hallmark 90th Birthday Card – Choice of StylesCHECK PRICE
Personalized Day You Were Born Greeting CardCHECK PRICE
Talking Trump Birthday Card with Trump's Real VoiceCHECK PRICE
Personalized Birthday Greeting Card for WomenCHECK PRICE
90th Birthday Pop-up Greeting CardCHECK PRICE
Colorful Confetti Birthday CardCHECK PRICE
Want More Gift Ideas? Check Out These Articles: